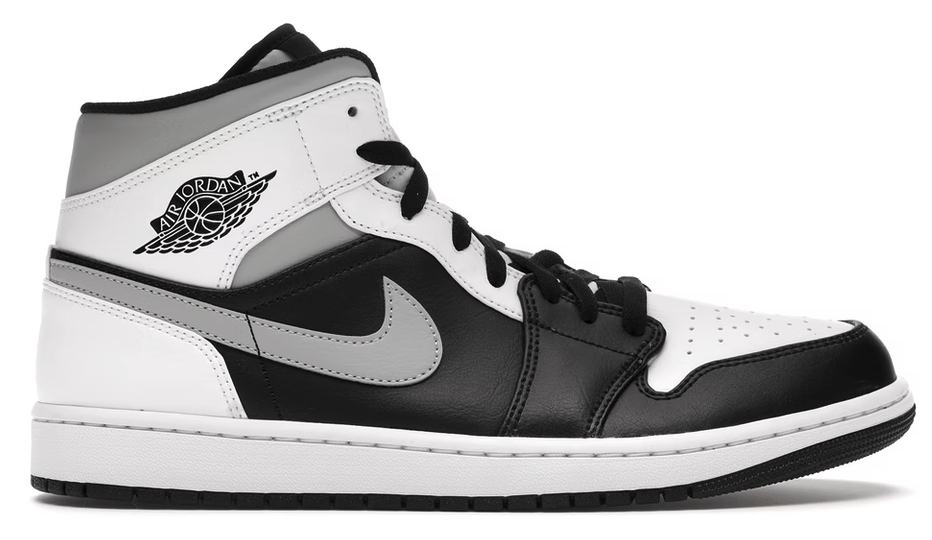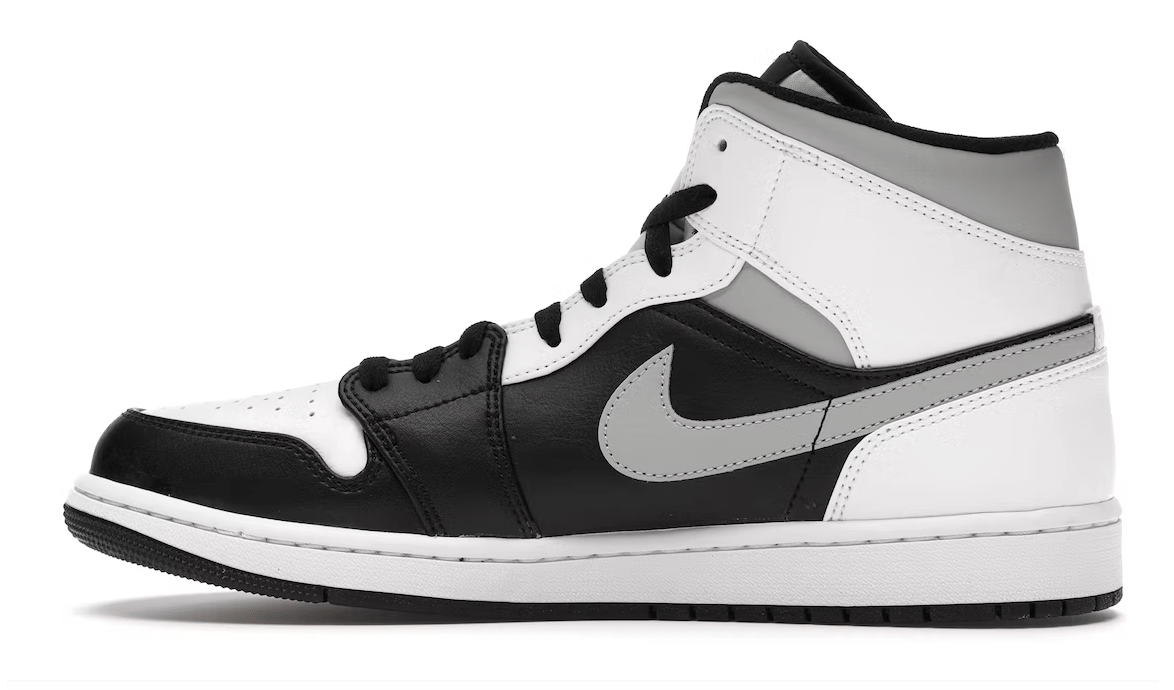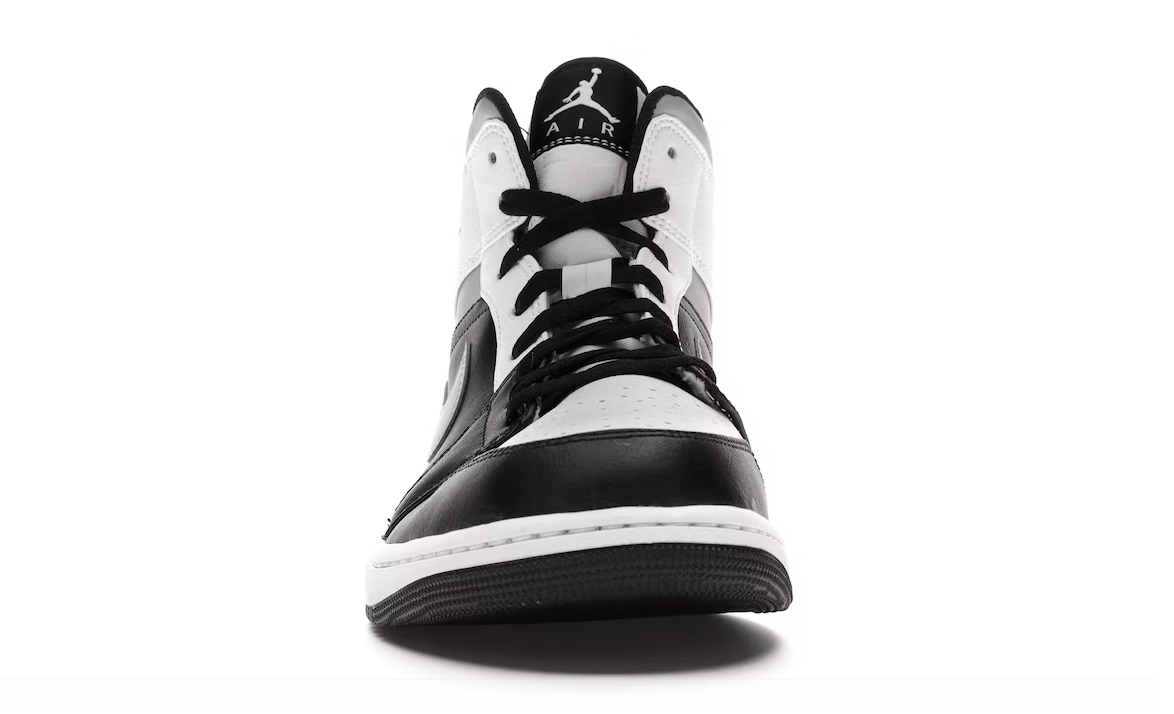 Style 554724-073 Colorway BLACK/MEDIUM GREY-WHITE Retail Price $115 Release Date 10/12/2020 The Air Jordan 1 is the shoe that started it all. A legendary shoe linked indelibly with a legendary basketball player, it was released in 1985, just at the end of Michael Jordan's rookie year. Designer Peter Moore was told to produce something "different" and "exciting," and he certainly delivered, creating a footwear dynasty in the process. Retro versions like the Jordan 1 Mid White Shadow have been beloved ever since. The Air Jordan 1 Mid White Shadow is a mid-top shoe that comes in a special colorway that tastefully mixes black, white and gray together. As a real blast from the past, it makes use of the original Air Jordan 1's Shadow design. It features a black leather mid-panel, a cool grey leather Swoosh that is made to be ever-so-slightly lighter than the Swoosh on the original Jordan 1, and a stylish white collar and heel that also contribute to maximum comfort. A white leather perforated toe, a black leather toe cap, lower eyelets, and a white Jumpman on its white leather tongue completes the design. The Air Jordan 1 Mid White Shadow was released in October of 2020 and retailed for $115.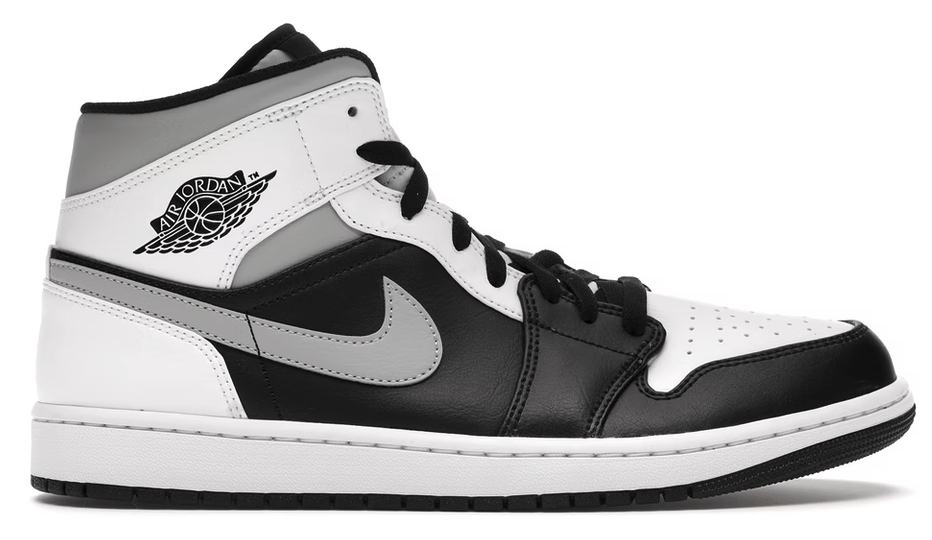 We've got your back
Import duties information
Estimated delivery:
Express: Oct 01 - Oct 14
Need more information?
Size Guide
Women's Shoes Size Guide
| | | | | | | | | | | | | | | | | | | | |
| --- | --- | --- | --- | --- | --- | --- | --- | --- | --- | --- | --- | --- | --- | --- | --- | --- | --- | --- | --- |
| US | 4 | 4.5 | 5 | 5.5 | 6 | 6.5 | 7 | 7.5 | 8 | 8.5 | 9 | 9.5 | 10 | 10.5 | 11 | 11.5 | 12 | 12.5 | 13 |
| UK | 2 | 2.5 | 3 | 3.5 | 4 | 4.5 | 5 | 5.5 | 6 | 6.5 | 7 | 7.5 | 8 | 8.5 | 9 | 9.5 | 10 | 10.5 | 11 |
| EU | 34.5 | 35 | 35.5 | 36 | 37 | 37.5 | 38 | 39 | 39.5 | 40 | 40.5 | 41.5 | 42 | 42.5 | 43.5 | 44 | 44.5 | 45 | 46 |
| CM | 21.5 | 22.0 | 22.5 | 22.75 | 23.0 | 23.5 | 24.0 | 24.5 | 25.0 | 25.5 | 25.75 | 26.0 | 26.5 | 27.0 | 27.5 | 28.0 | 28.5 | 28.75 | 29.0 |
Men's Shoes Size Guide
| | | | | | | | | | | | | | | | | | | | | | | | |
| --- | --- | --- | --- | --- | --- | --- | --- | --- | --- | --- | --- | --- | --- | --- | --- | --- | --- | --- | --- | --- | --- | --- | --- |
| US | 4 | 4.5 | 5 | 5.5 | 6 | 6.5 | 7 | 7.5 | 8 | 8.5 | 9 | 9.5 | 10 | 10.5 | 11 | 11.5 | 12 | 12.5 | 13 | 13.5 | 14 | 14.5 | 15 |
| UK | 3 | 3.5 | 4 | 4.5 | 5 | 5.5 | 6 | 6.5 | 7 | 7.5 | 8 | 8.5 | 9 | 9.5 | 10 | 10.5 | 11 | 11.5 | 12 | 12.5 | 13 | 13.5 | 14 |
| EU | 36 | 37 | 37.5 | 38 | 39 | 39.5 | 40 | 40.5 | 41.5 | 42 | 42.5 | 43.5 | 44 | 44.5 | 45 | 46 | 46.5 | 47 | 48 | 48.5 | 49 | 49.5 | 50.5 |
| CM | 22.5 | 23 | 23.5 | 24 | 24.5 | 25 | 25.25 | 25.5 | 26 | 26.5 | 27 | 27.5 | 28 | 28.25 | 28.5 | 29 | 29.5 | 30 | 30.5 | 30.75 | 31 | 31.5 | 32 |