Regular price
$399.00 USD
Regular price
$0.00 USD
Sale price
$399.00 USD
Unit price
per
Sale
Sold out
Size Guide
Thanks for signing up for restock notifications!
There was an error signing up for restock notifications. Please try again.
Sign up for restock notifications
View full details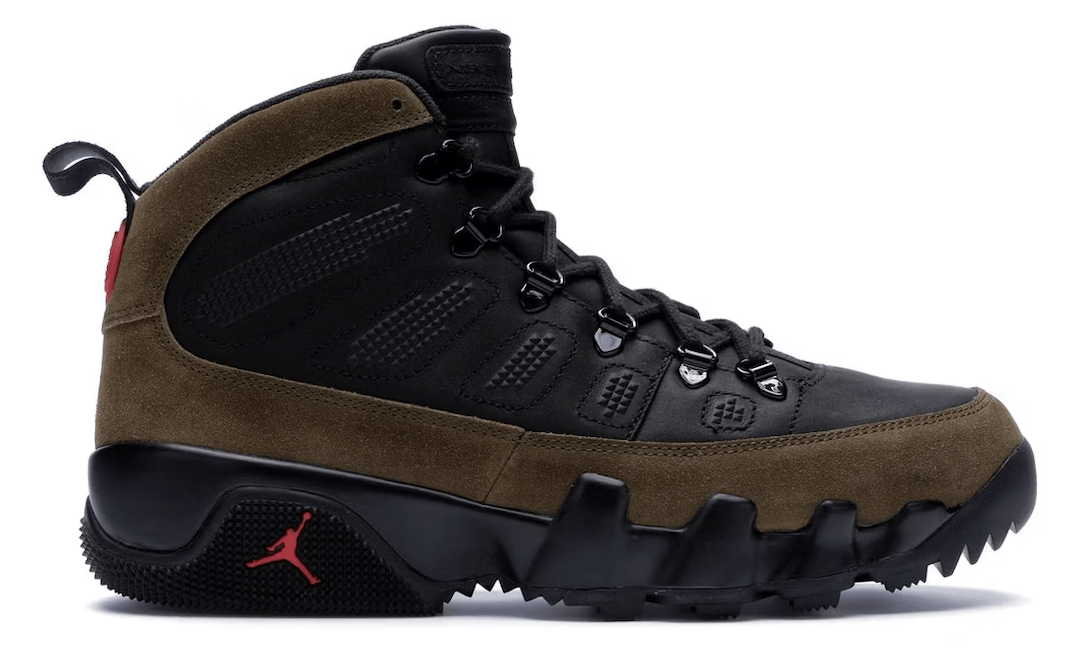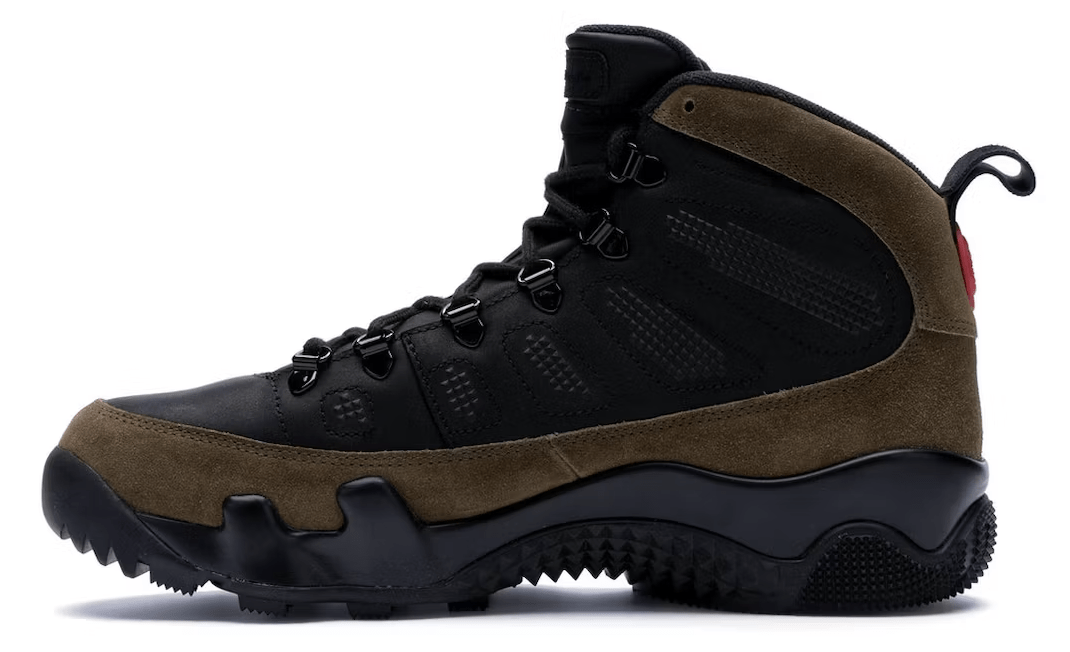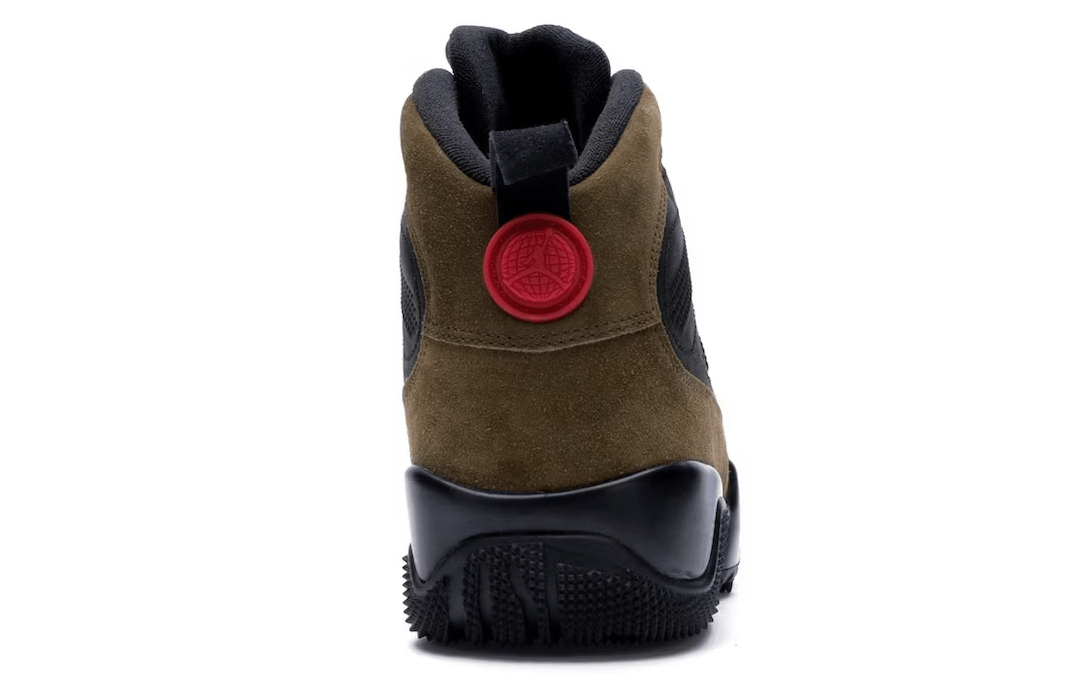 Style AR4491-012 Colorway BLACK/LIGHT OLIVE-TRUE RED Retail Price $225 Release Date 12/06/2017 The Jordan 9 Retro Boot NRG Olive is a distinctive and rugged reinterpretation of the classic Air Jordan 9 silhouette. Released as part of Nike's NRG (Energy) collection, this shoe adds a twist to the iconic basketball shoe with a militaristic aesthetic. The shoe's upper is constructed using a combination of leather and suede materials. It features a black and olive color scheme, with black as the predominant color. Olive appears in one color block that runs from the collar, behind the heel, and along the sides to the edge of the toebox. Some of the branding details on this shoe include a tiny Jumpman on the edge of the outsole and Air Jordan text on the tongue. What we love the most about the Jordan 9 Retro Boot NRG Olive is its extended collar, which provides ankle support and protection, making it suitable for various weather conditions and terrains. The shoe was first released at the retail price of $225 on December 6th, 2017.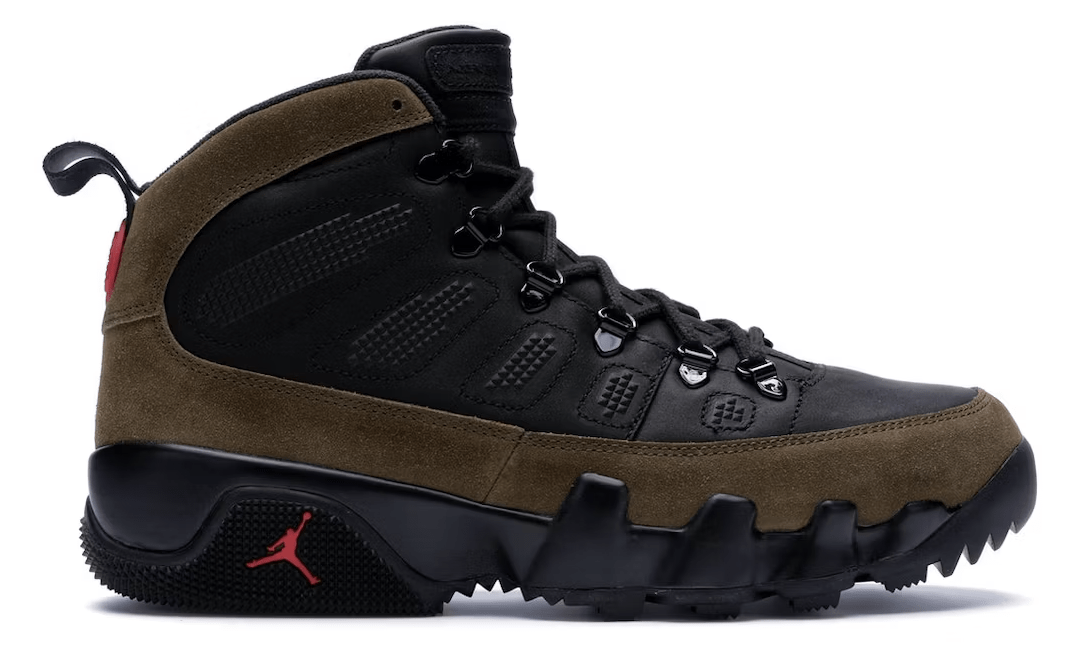 We've got your back
Import duties information
Estimated delivery:
Express: Dec 11 - Dec 24
Need more information?
Size Guide
Women's Shoes Size Guide
| | | | | | | | | | | | | | | | | | | | |
| --- | --- | --- | --- | --- | --- | --- | --- | --- | --- | --- | --- | --- | --- | --- | --- | --- | --- | --- | --- |
| US | 4 | 4.5 | 5 | 5.5 | 6 | 6.5 | 7 | 7.5 | 8 | 8.5 | 9 | 9.5 | 10 | 10.5 | 11 | 11.5 | 12 | 12.5 | 13 |
| UK | 2 | 2.5 | 3 | 3.5 | 4 | 4.5 | 5 | 5.5 | 6 | 6.5 | 7 | 7.5 | 8 | 8.5 | 9 | 9.5 | 10 | 10.5 | 11 |
| EU | 34.5 | 35 | 35.5 | 36 | 37 | 37.5 | 38 | 39 | 39.5 | 40 | 40.5 | 41.5 | 42 | 42.5 | 43.5 | 44 | 44.5 | 45 | 46 |
| CM | 21.5 | 22.0 | 22.5 | 22.75 | 23.0 | 23.5 | 24.0 | 24.5 | 25.0 | 25.5 | 25.75 | 26.0 | 26.5 | 27.0 | 27.5 | 28.0 | 28.5 | 28.75 | 29.0 |
Men's Shoes Size Guide
| | | | | | | | | | | | | | | | | | | | | | | | |
| --- | --- | --- | --- | --- | --- | --- | --- | --- | --- | --- | --- | --- | --- | --- | --- | --- | --- | --- | --- | --- | --- | --- | --- |
| US | 4 | 4.5 | 5 | 5.5 | 6 | 6.5 | 7 | 7.5 | 8 | 8.5 | 9 | 9.5 | 10 | 10.5 | 11 | 11.5 | 12 | 12.5 | 13 | 13.5 | 14 | 14.5 | 15 |
| UK | 3 | 3.5 | 4 | 4.5 | 5 | 5.5 | 6 | 6.5 | 7 | 7.5 | 8 | 8.5 | 9 | 9.5 | 10 | 10.5 | 11 | 11.5 | 12 | 12.5 | 13 | 13.5 | 14 |
| EU | 36 | 37 | 37.5 | 38 | 39 | 39.5 | 40 | 40.5 | 41.5 | 42 | 42.5 | 43.5 | 44 | 44.5 | 45 | 46 | 46.5 | 47 | 48 | 48.5 | 49 | 49.5 | 50.5 |
| CM | 22.5 | 23 | 23.5 | 24 | 24.5 | 25 | 25.25 | 25.5 | 26 | 26.5 | 27 | 27.5 | 28 | 28.25 | 28.5 | 29 | 29.5 | 30 | 30.5 | 30.75 | 31 | 31.5 | 32 |