Regular price
$999.00 USD
Regular price
$0.00 USD
Sale price
$999.00 USD
Unit price
per
Sale
Sold out
Size Guide
Thanks for signing up for restock notifications!
There was an error signing up for restock notifications. Please try again.
Sign up for restock notifications
View full details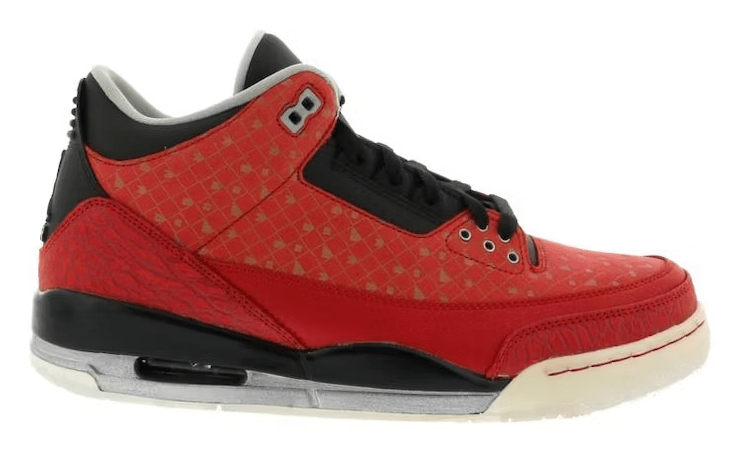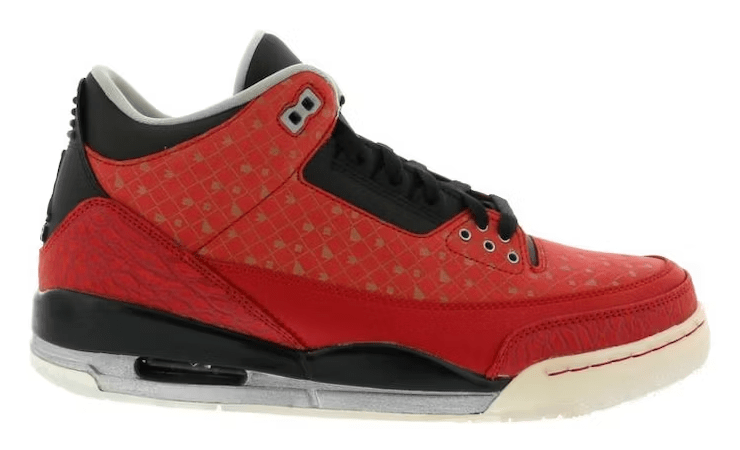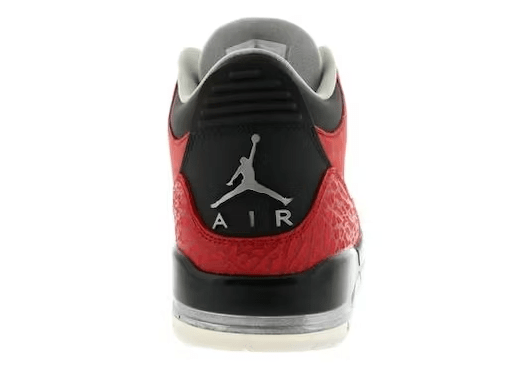 Style 437536-600 Colorway VARSITY RED/METALLIC SILVER-BLACK Retail Price $160 Release Date 12/04/2010 As one of the most popular Air Jordan shoes, it should come as no surprise how successful the Air Jordan 3 "Doernbecher" was when it originally released in December of 2010. The design from Cole Johanson, who participated in the annual OHSU Doernbecher Freestyle program, used the Air Jordan 3 to tell his story. The DB3 design features a tonal red upper with Cole's name subtly spelled out within the diamond grid pattern. His two favorite foods, spaghetti and chocolate, were then written behind the heel tabs on the Jordan 3 Retro. Written on the insoles of the Doernbecher Jordan 3 are the two things Cole used to beat his lymphoma, Strength and Courage. The 2010 release of the DB Jordan 3 sold out like we've come to expect most OHSU Doernbecher Freestyle designs to. However, in 2013, Nike released the Jordan 3 Doernbecher for a second time on their website and at select Nike stores. This era of online releases was known for the use of bots and not long after the release Nike cancelled an unknown number of orders. Despite the restock/re-release, the Air Jordan 3 "Doernbecher" remains one of the most sought after and pricey Air Jordan 3 colorways and can regularly be seen on the feet of collectors and celebrities.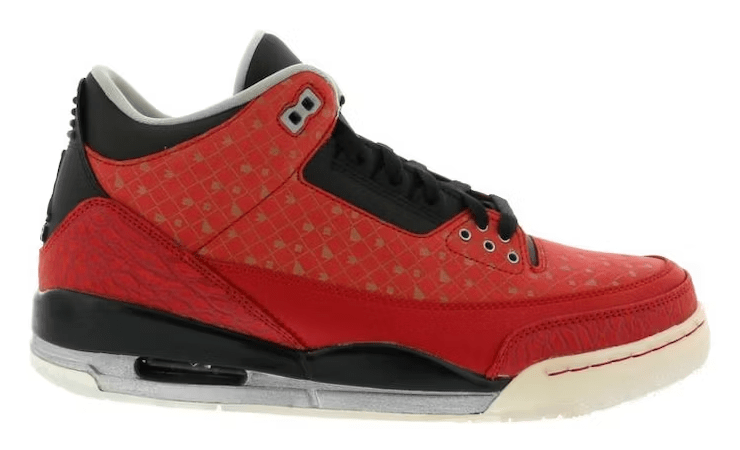 We've got your back
Import duties information
Estimated delivery:
Express: Oct 02 - Oct 15
Need more information?
Size Guide
Women's Shoes Size Guide
| | | | | | | | | | | | | | | | | | | | |
| --- | --- | --- | --- | --- | --- | --- | --- | --- | --- | --- | --- | --- | --- | --- | --- | --- | --- | --- | --- |
| US | 4 | 4.5 | 5 | 5.5 | 6 | 6.5 | 7 | 7.5 | 8 | 8.5 | 9 | 9.5 | 10 | 10.5 | 11 | 11.5 | 12 | 12.5 | 13 |
| UK | 2 | 2.5 | 3 | 3.5 | 4 | 4.5 | 5 | 5.5 | 6 | 6.5 | 7 | 7.5 | 8 | 8.5 | 9 | 9.5 | 10 | 10.5 | 11 |
| EU | 34.5 | 35 | 35.5 | 36 | 37 | 37.5 | 38 | 39 | 39.5 | 40 | 40.5 | 41.5 | 42 | 42.5 | 43.5 | 44 | 44.5 | 45 | 46 |
| CM | 21.5 | 22.0 | 22.5 | 22.75 | 23.0 | 23.5 | 24.0 | 24.5 | 25.0 | 25.5 | 25.75 | 26.0 | 26.5 | 27.0 | 27.5 | 28.0 | 28.5 | 28.75 | 29.0 |
Men's Shoes Size Guide
| | | | | | | | | | | | | | | | | | | | | | | | |
| --- | --- | --- | --- | --- | --- | --- | --- | --- | --- | --- | --- | --- | --- | --- | --- | --- | --- | --- | --- | --- | --- | --- | --- |
| US | 4 | 4.5 | 5 | 5.5 | 6 | 6.5 | 7 | 7.5 | 8 | 8.5 | 9 | 9.5 | 10 | 10.5 | 11 | 11.5 | 12 | 12.5 | 13 | 13.5 | 14 | 14.5 | 15 |
| UK | 3 | 3.5 | 4 | 4.5 | 5 | 5.5 | 6 | 6.5 | 7 | 7.5 | 8 | 8.5 | 9 | 9.5 | 10 | 10.5 | 11 | 11.5 | 12 | 12.5 | 13 | 13.5 | 14 |
| EU | 36 | 37 | 37.5 | 38 | 39 | 39.5 | 40 | 40.5 | 41.5 | 42 | 42.5 | 43.5 | 44 | 44.5 | 45 | 46 | 46.5 | 47 | 48 | 48.5 | 49 | 49.5 | 50.5 |
| CM | 22.5 | 23 | 23.5 | 24 | 24.5 | 25 | 25.25 | 25.5 | 26 | 26.5 | 27 | 27.5 | 28 | 28.25 | 28.5 | 29 | 29.5 | 30 | 30.5 | 30.75 | 31 | 31.5 | 32 |