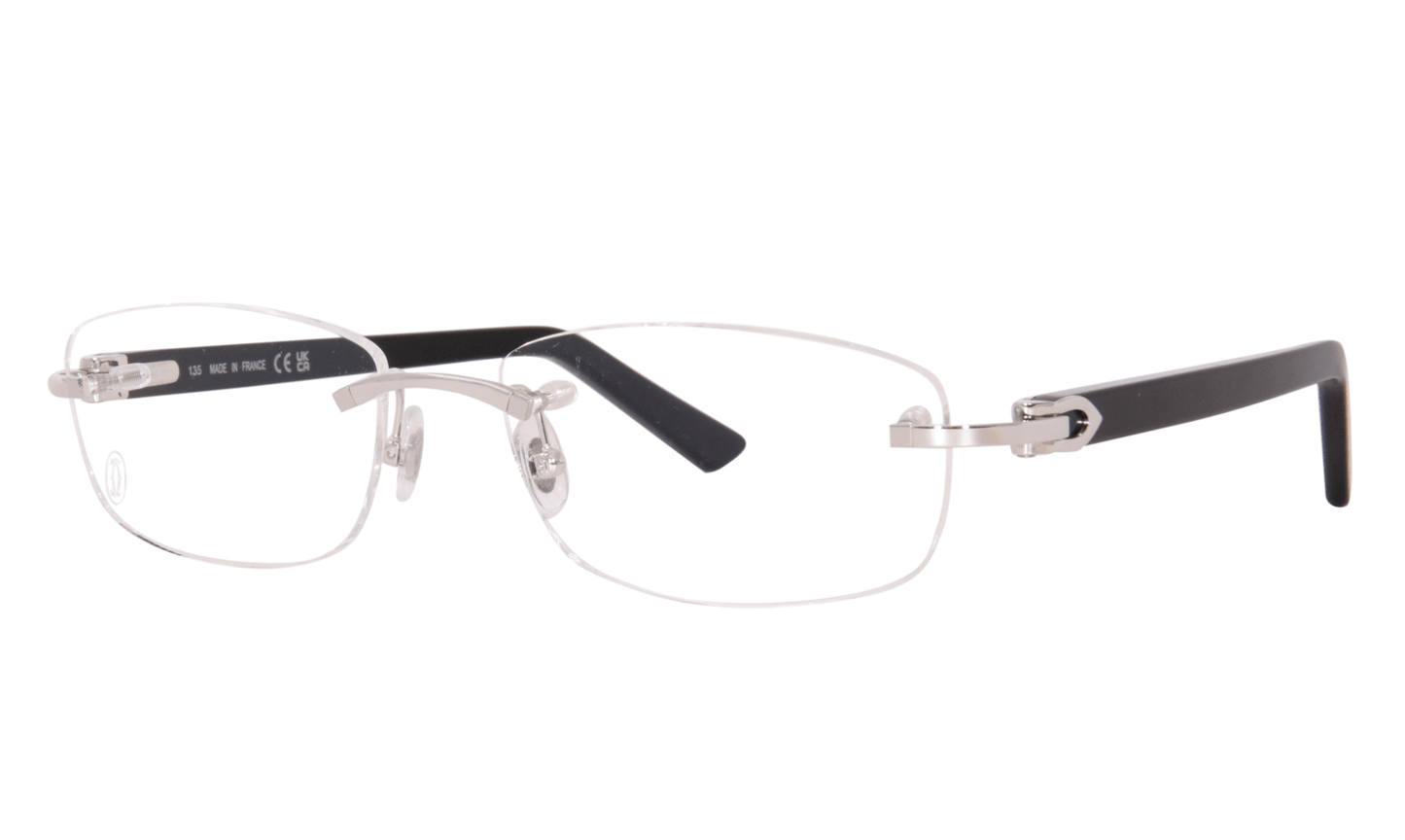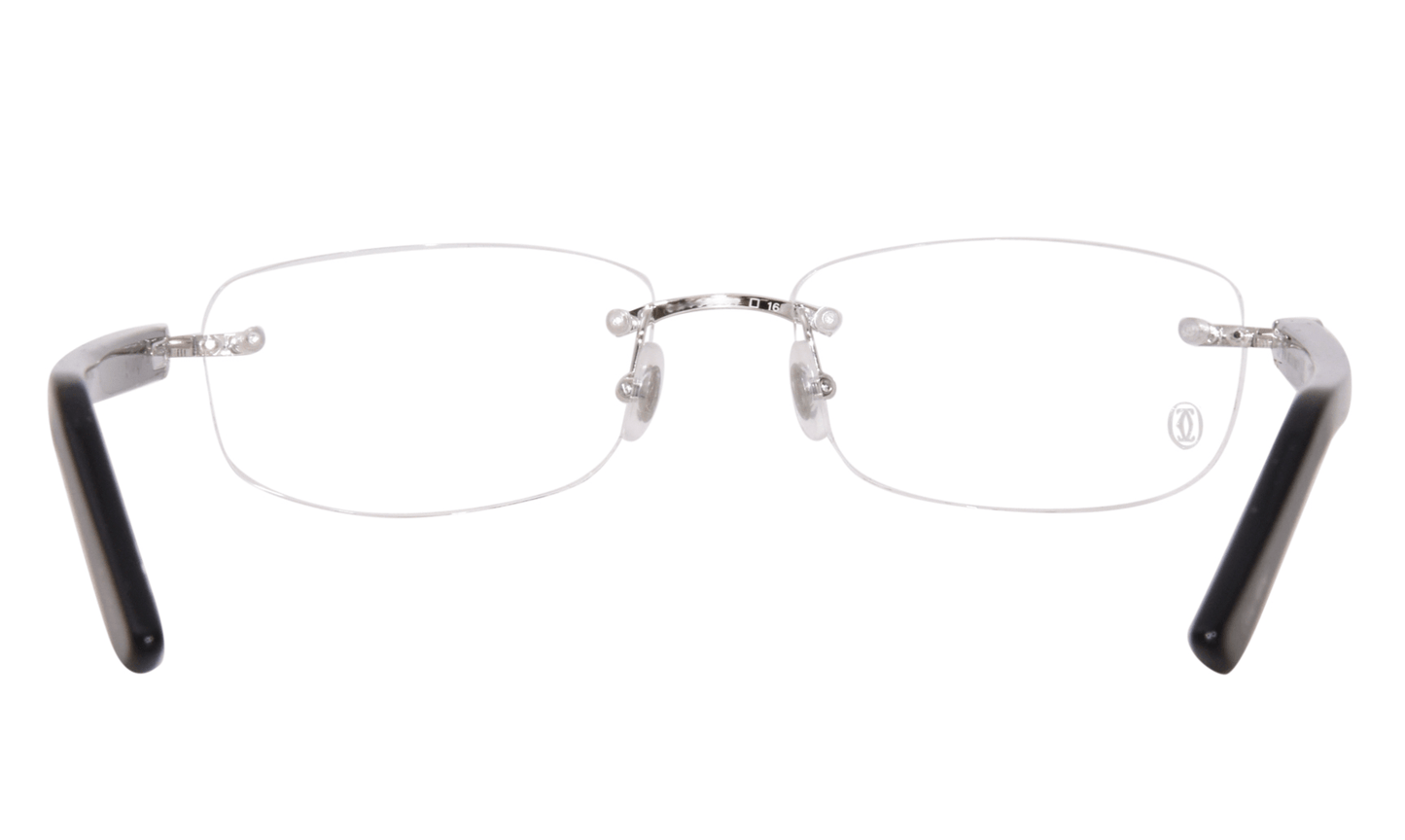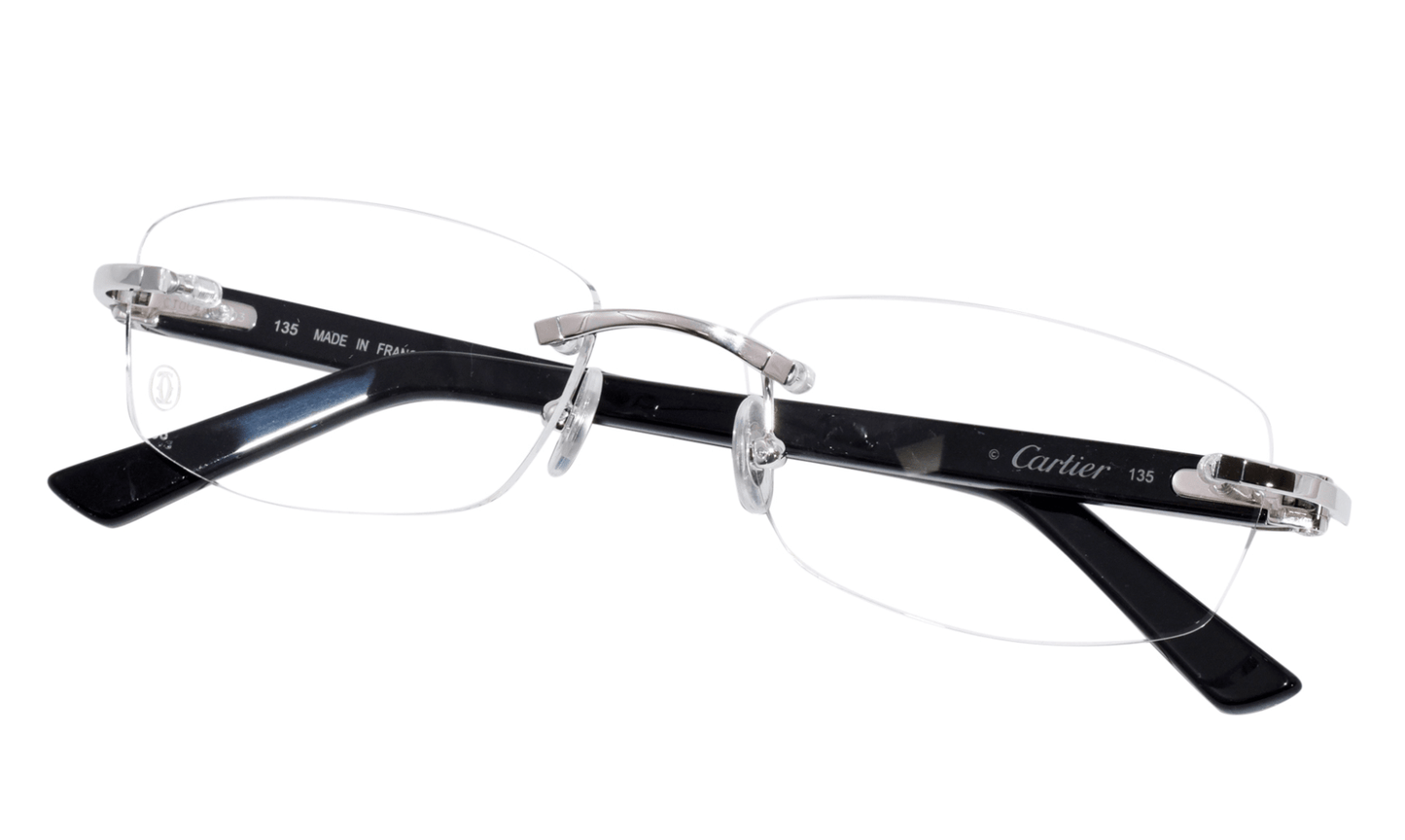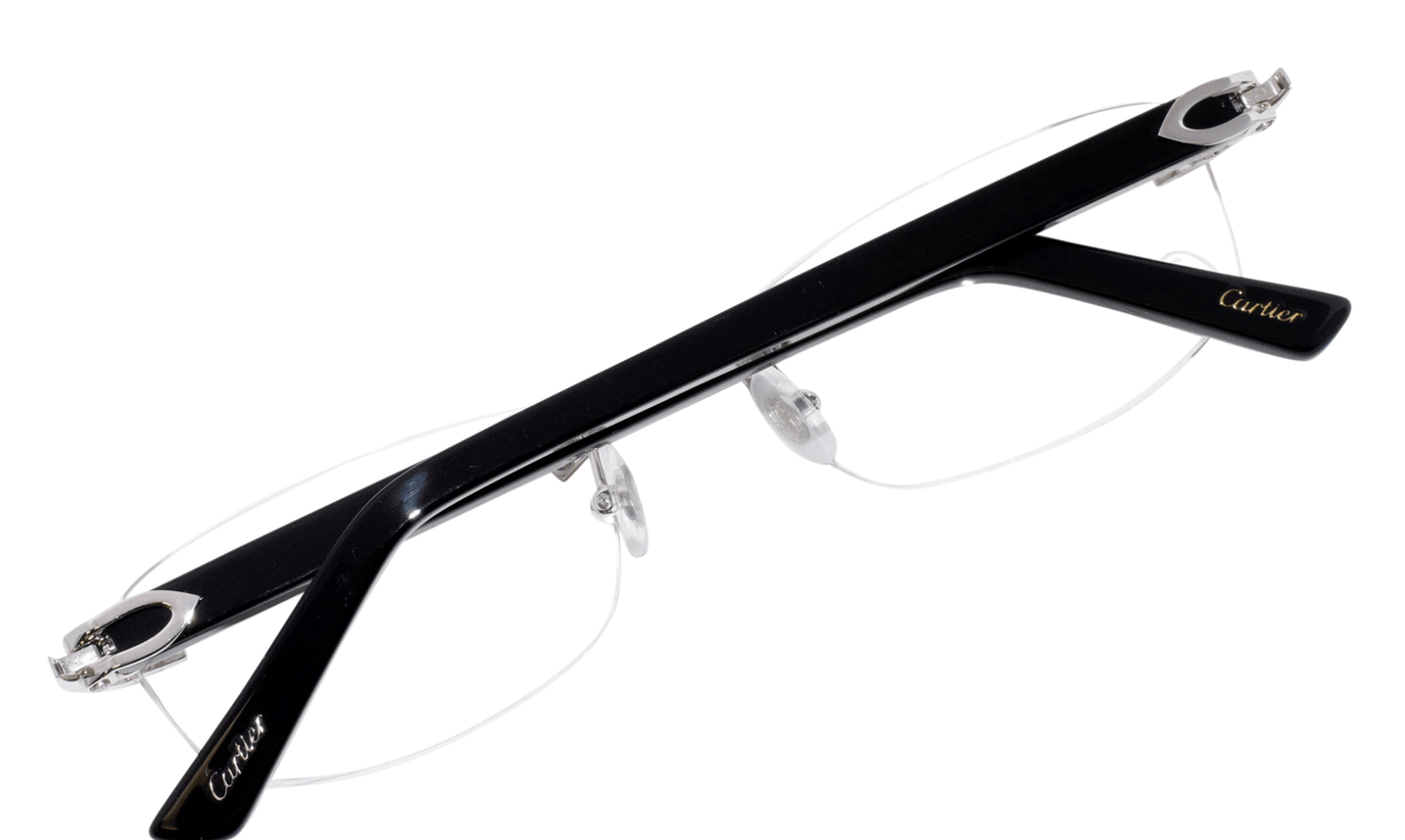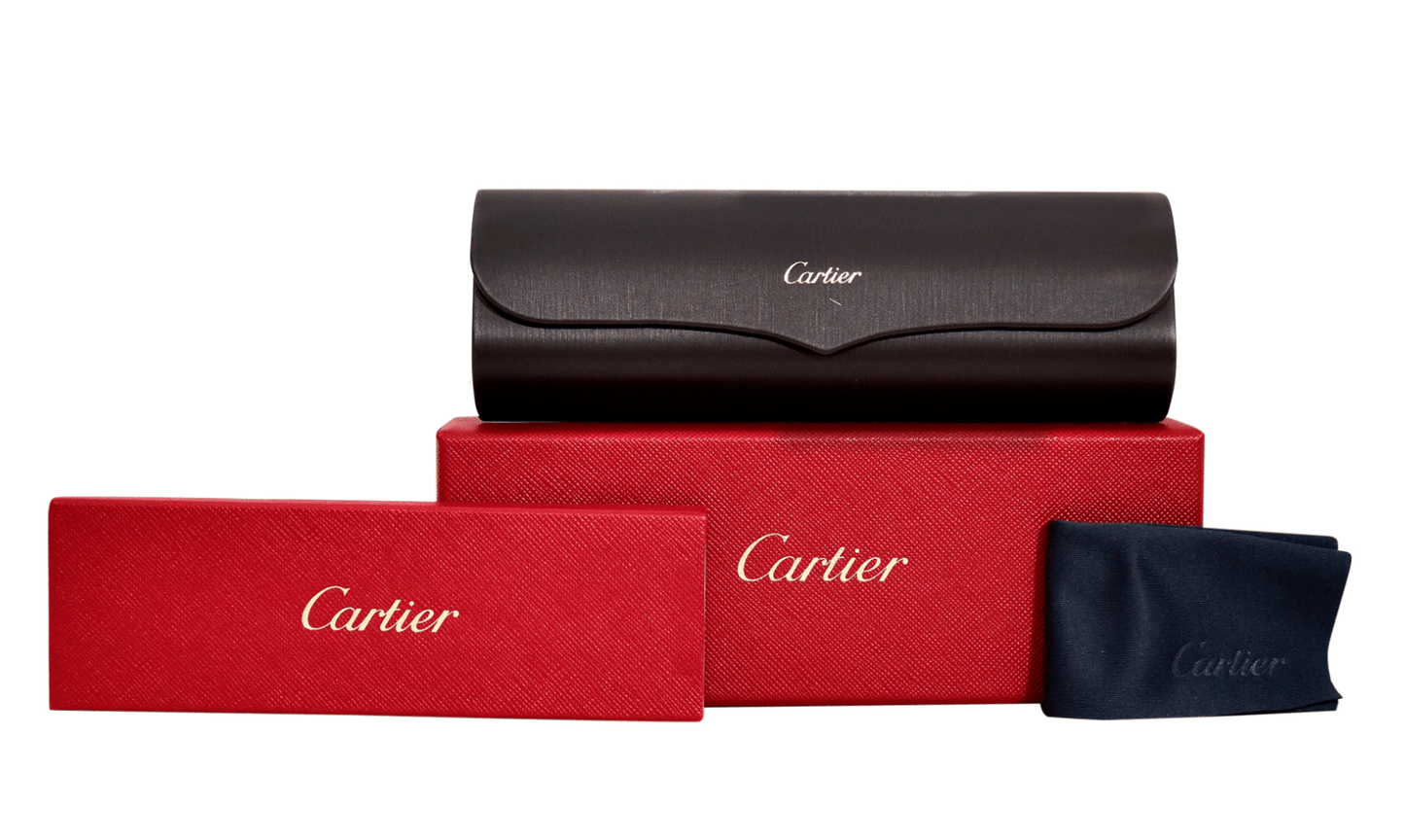 Cartier eyewear is created from a legacy of luxury. Mixing timeless elegance with a modern aesthetic, the Maison delivers exceptional eyewear in its own vocabulary. High-rectangular rimless shape enriched by the C Décor on the temples for an elegant clientele. Precious finishes in platinum adorning the décor and the metal parts. Temples equipped with flexible hinges for better comfort and fit, enabling the temples to fold back smoothly. Double C Décor signature on the nose pads. Material: Acetate / Titanium Shape: Rectangle Lens Profile: Classic Width: Medium A: 53 DBL: 16 Temple: 135 Glasses may or may not include original packaging which includes boxes, cases, and clothes.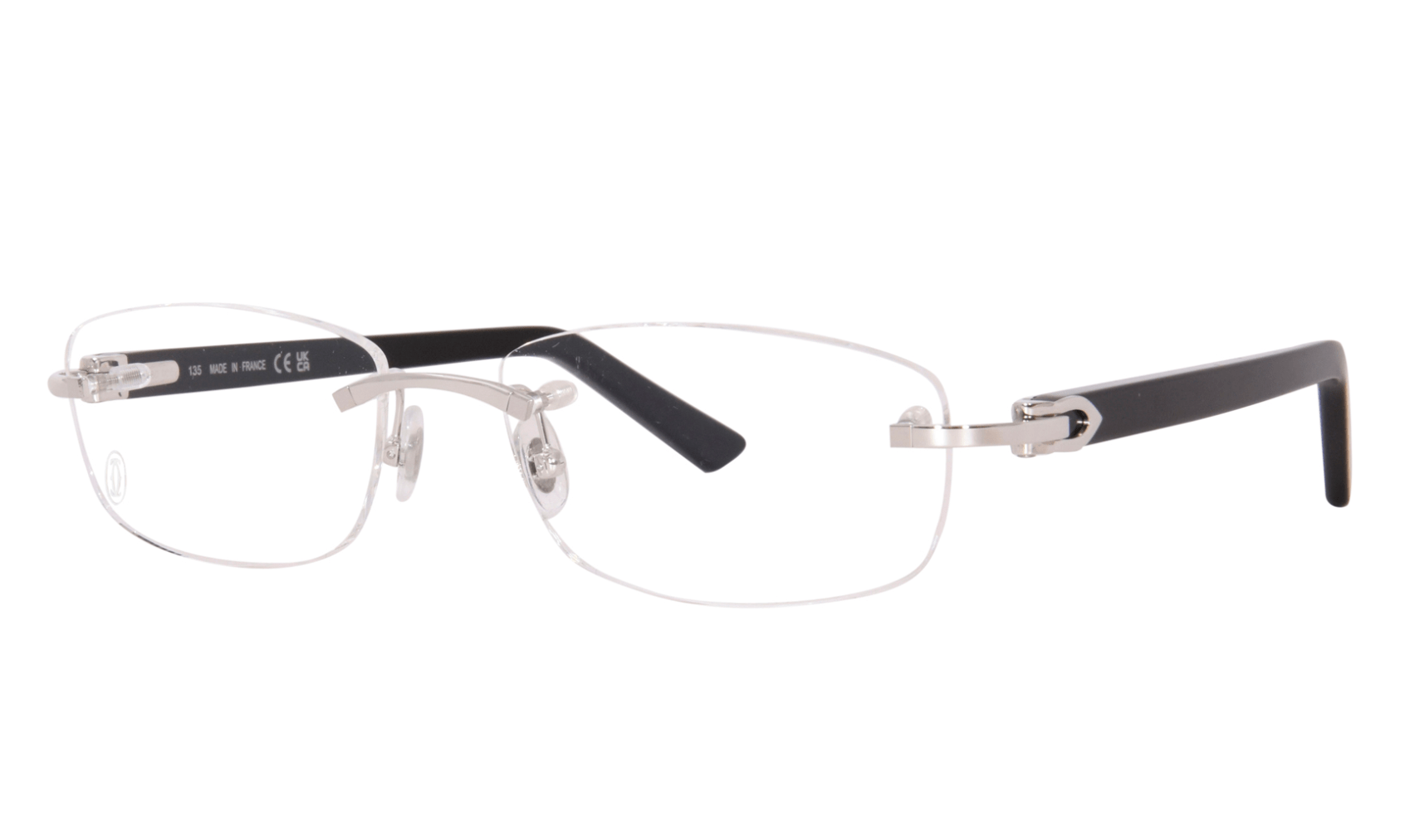 We've got your back
Import duties information
Estimated delivery:
Express: Dec 12 - Dec 25
Need more information?
Size Guide
Women's Shoes Size Guide
| | | | | | | | | | | | | | | | | | | | |
| --- | --- | --- | --- | --- | --- | --- | --- | --- | --- | --- | --- | --- | --- | --- | --- | --- | --- | --- | --- |
| US | 4 | 4.5 | 5 | 5.5 | 6 | 6.5 | 7 | 7.5 | 8 | 8.5 | 9 | 9.5 | 10 | 10.5 | 11 | 11.5 | 12 | 12.5 | 13 |
| UK | 2 | 2.5 | 3 | 3.5 | 4 | 4.5 | 5 | 5.5 | 6 | 6.5 | 7 | 7.5 | 8 | 8.5 | 9 | 9.5 | 10 | 10.5 | 11 |
| EU | 34.5 | 35 | 35.5 | 36 | 37 | 37.5 | 38 | 39 | 39.5 | 40 | 40.5 | 41.5 | 42 | 42.5 | 43.5 | 44 | 44.5 | 45 | 46 |
| CM | 21.5 | 22.0 | 22.5 | 22.75 | 23.0 | 23.5 | 24.0 | 24.5 | 25.0 | 25.5 | 25.75 | 26.0 | 26.5 | 27.0 | 27.5 | 28.0 | 28.5 | 28.75 | 29.0 |
Men's Shoes Size Guide
| | | | | | | | | | | | | | | | | | | | | | | | |
| --- | --- | --- | --- | --- | --- | --- | --- | --- | --- | --- | --- | --- | --- | --- | --- | --- | --- | --- | --- | --- | --- | --- | --- |
| US | 4 | 4.5 | 5 | 5.5 | 6 | 6.5 | 7 | 7.5 | 8 | 8.5 | 9 | 9.5 | 10 | 10.5 | 11 | 11.5 | 12 | 12.5 | 13 | 13.5 | 14 | 14.5 | 15 |
| UK | 3 | 3.5 | 4 | 4.5 | 5 | 5.5 | 6 | 6.5 | 7 | 7.5 | 8 | 8.5 | 9 | 9.5 | 10 | 10.5 | 11 | 11.5 | 12 | 12.5 | 13 | 13.5 | 14 |
| EU | 36 | 37 | 37.5 | 38 | 39 | 39.5 | 40 | 40.5 | 41.5 | 42 | 42.5 | 43.5 | 44 | 44.5 | 45 | 46 | 46.5 | 47 | 48 | 48.5 | 49 | 49.5 | 50.5 |
| CM | 22.5 | 23 | 23.5 | 24 | 24.5 | 25 | 25.25 | 25.5 | 26 | 26.5 | 27 | 27.5 | 28 | 28.25 | 28.5 | 29 | 29.5 | 30 | 30.5 | 30.75 | 31 | 31.5 | 32 |